Dark tourism is an umbrella terms that usually refers to sites, archaeology, museums, and other aspects of heritage linked to the themes surrounding death, tragedy, and destruction. It is quite difficult to define what exactly counts as dark tourism, but usually it counts places such as medical museums, graveyards, disaster sites such as Chernobyl, or murder trails (Jack the Ripper comes to mind). According to Psychology Today, the reasons people visit these sites vary. A 'dark tourist' may feel drawn to a site/attraction as they may be feeling curious, empathetic, nostalgic, or perhaps they have an interest in horror or simply want to educate themselves. Whatever the reason, dark tourism is on the rise in recent years (I would probably describe myself as a dark tourist)- but when we think of a past population fascinated with the macabre, who do we think of? The Victorians are usually top of the list.
Whether you think the Victorians had a morbid fascination with death and the macabre, or whether you think they were simply realistic about their own mortality, it cannot be denied the Victorians DID death to an extreme by modern, western standards. Mourning and the dead played a large role in everyday life, with much influence stemming from Queen Victoria's 40-year mourning period of her husband Prince Albert. In this blog post, I will highlight some examples that can be used to call Victorians the ultimate 'dark tourists'. Even though death played an important role in their everyday, personal lives (with extended mourning periods the norm and showy funerary monuments sought after), it can be said the Victorians sought out the macabre as a means of entertainment as well. These are just a few examples I have highlighted- there are many more I simply cannot fit into a blogpost.
Medical Museums
One of the most famous examples of the Victorian medical museum is that of Dr Joseph Kahn's. In the first half of the 19th C there was a growing interest in anatomy amongst the public for a couple of reasons. One was the case of the infamous murderers Burke and Hare in the 1820s, and the other was the incorporation of waxworks to display anatomical structures. Kahn opened his anatomical and pathology museum on Oxford Street in the 1850s, and consisted of specimens preserved in fluids, as well as wax models. Initially the museum was highly praised by the Lancet, but there was some distaste shown concerning the sections showing venereal disease and embryology. Ladies were admitted separately and were not allowed to view some specimens. The museum collection toured around Britain, with separate sections only allowed entry by 'medical men'. The tour was extremely successful amongst the Victorian population but failed to turn over a lot of financial prophet. Kahn's downfall came with his involvement in quackery, particularly surrounded his selling of venereal disease cures on site. The medical profession began an anti-quackery campaign against Kahn, and many suggested he should have been prosecuted under the Obscene Publications Act of 1857 (the Kahn Museum under the Jordan's was prosecuted in 1873). Eventually the museum closed and was broken up, but there are surviving accounts from the general public on visiting the museum. Many members of the population described their visits as a harmless day out, and it is thought that many likely learned the facts of life there as well as other anatomical aspects of the body. 'Medical dark tourism' is a category defined in dark tourism and describes visits to medical museums with human specimens amongst other medical related sites. It is clear many Victorians fell within this category in the same manner many do today.    
The Morgue
When one thinks of death as spectacle in the 19th century- the Paris Morgue stands out. The Morgue became one of the most popular tourist attractions in Paris by the late 19th century – around 40,000 people are thought to have visited a day at its height. Public access initially allowed members of the public to view unidentified dead to see if they were a missing family member. However, most viewers simply went to the morgue as a means to view death up close. Cold water dropped from the ceiling to stall decomposition before refrigeration, and visitors were protected from the smell of decomp by a viewing screen. They went to the morgue as a 'dark tourist', and often the crowds became so large that the police had to be called to keep everything in order (This often happened if it was a child on display). Guidebooks of the time mentioned the morgue as a tourist attraction, with many vendors outside selling snacks to the visiting crowds- it sounds almost like a fairground. Many described the morgue as 'theatre' which often became the case when police publicly brought suspected murderers to the morgue to confront the sight of their victims on display. Victorian high society in London was aware of the morgue, attracted to the idea of death as entertainment, but afraid to engage in a typically working-class activity. Dickens wrote about the Paris Morgue in his travel writings, which London society members read about. In London at the time, a morgue opened but did not allow public access like Paris- any unidentified dead were described on paper and put up outside. Although the London morgue was not a tourist site like Paris, the London Victorian population obviously revealed in death, with public execution and Madame Tussaud's executed criminals wax works attended by large crowds.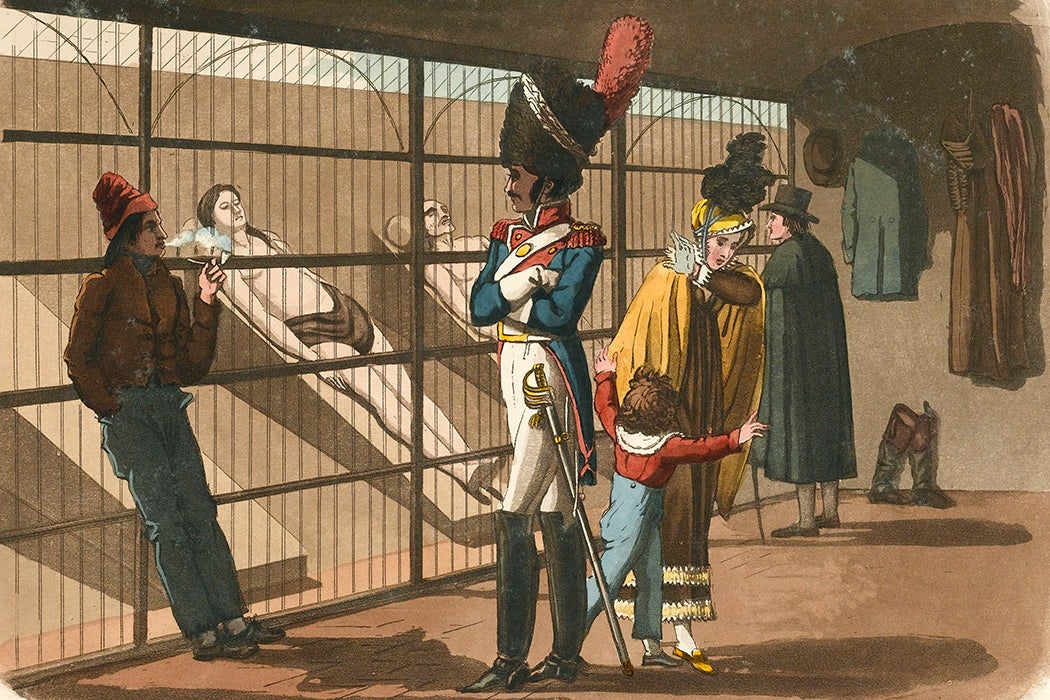 Mummy Unwrapping
In times past, a trip to Egypt would not have been complete without bringing home a mummy or a piece of a mummy as a 'souvenir'. 'Egyptomania' swept across high society, with archaeological human remains at the centre of the fascination. In the mid-19th century, Egyptologist Thomas Pettigrew was interested in the cranial shape of mummies and staged public mummy unwrappings (often at the Royal College of Surgeons). Many paying spectators attended these unwrappings, with audience members allowed to sometimes handle the mummy and its wrappings. Many referenced 'mummy dust' that would be inhaled upon the unwrapping and handling of the remains – Dickens himself also referred to 'mummy dust' in his writings. It is debated how many of these mummies were unwrapped at Victorian parties, but one cannot deny the mix of archaeology, anatomy and death would have been irresistible to the Victorians if these parties did indeed take place. The Duke of Hamilton was so taken with ancient mummies that he asked Pettigrew to mummify him upon his death – Pettigrew obliged, and the duke is apparently still sealed in a sarcophagus. Pettigrew went on to become a founding member of the British Archaeological Society, with mummy unwrappings eventually falling out of favour. It is suggested that Victorians did not feel 'shocked' after numerous unwrappings – if you had seen one, you had seen them all (They were probably onto looking at modern specimens at the medical museum as a means to entertain their morbid curiosity). Again, we see the Victorian fascination with death as entertainment, as a mean to satisfy the 'dark tourist' within them.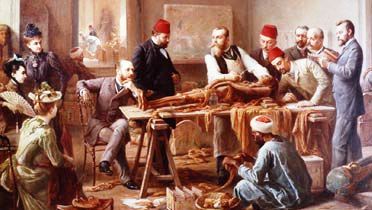 Sources
Bates, A. W. (2006) 'Dr Kahn's Museum: Obscene Anatomy in Victorian London', Journal of the Royal Society of Medicine, 99(12), pp. 618–624. doi: 10.1177/014107680609901209.
Classen, C., 2014. Touching the deep past: The lure of ancient bodies in nineteenth-century museums and culture. The Senses and Society, 9(3), pp.268-283.
Martens, B. (2008). Death as Spectacle: The Paris Morgue in Dickens and Browning. Dickens Studies Annual, 39, 223-248. Retrieved March 20, 2021, from http://www.jstor.org/stable/44372196
https://www.psychologytoday.com/us/blog/in-excess/201912/dark-tourism
https://www.atlasobscura.com/articles/paris-morgue-public-viewing
https://www.unjourdeplusaparis.com/en/paris-insolite/morgue-visite-favorite-paris-au-19e-siecle
https://www.atlasobscura.com/articles/victorian-party-people-unrolled-mummies-for-fun
https://historyofyesterday.com/the-macabre-history-of-victorian-mummy-unwrapping-parties-70adccfab463